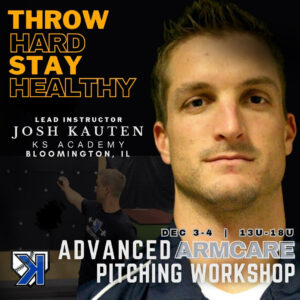 ADVANCED ARM CARE PITCHIG WORKSHOP
REGISTER HERE
Date: Saturday-Sunday, Dec. 3-4
Saturday, 11:30AM - 2PM (Group 1), 2:00PM - 4:30PM (Group 2)
Sunday, 9:00AM - 11:30AM (Group 1), 11:30AM - 2:00PM (Group 2)
Location: Aces Bishopville Facility
Cost: $185 (Aces), $225 (Non-Aces)
This is a two-day camp that will hit on everything with taking care of the arm and making it strong to throw harder. The camp will focus on building the arm up through plyoballs, stretches, band work and bodyblades, while also mixing in proper throwing routines, hip mobility and pitching mechanics. The camp will include pre-throwing workout, throwing, post throwing workouts and video.
Kauten is regarded as one of the top pitching instructors in the Midwest as his CSCS and CFSC certifications help give him a unique understanding of the human body and how to optimize performance.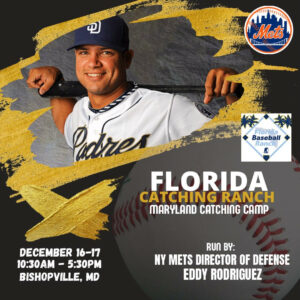 FLORIDA CATCHING RANCH - MARYLAND CATCHING CAMP
REGISTER HERE
Date: Saturday-Sunday, Dec. 16-17
Time: 10:30AM - 5:30PM (both days)
Location: Aces Bishopville Facility
Cost: $275 (Aces), Non-Aces $315 (Non-Aces)
Come join us for our fourth annual Florida Catching Ranch - Maryland Catching Camp run by current NY Mets Director of Defense, Eddy Rodriguez. This camp specializes on making catchers better and Eddy has been a superstar with this camp each of the last three years.
Those in attendance will work in small groups and rotate through stations with receiving, blocking and throwing. The catchers will learn different techniques that Eddy uses with the MLB catchers he trains. There is video breakdown, replay and self-assessment pieces as well.
Sign up today!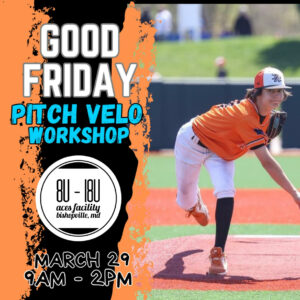 GOOD FRIDAY PITCH VELO WORKSHOP
REGISTER HERE
Date: Friday, March 29
Time: 9AM - 2PM
Location: Aces Bishopville Facility
Cost: $120 (Aces), $140 (Non-Aces)
The Good Friday Pitch Velo Workshop is a five-hour camp locked into specifically teaching campers to throw with more velocity. The camp includes all avenues on how to create higher fastball velocity, while also including ways to do it in a healthy and responsible form. Pitchers in attendance will go through all band, plyo and body blade exercises. They will be taught how to long toss properly and to how to move body to create more power! Camp will be run by St. Louis Cardinals scout, Dave Whigham and current Salisbury University Pitching Coach, Austin Heenan. Breakfast snack, lunch and drinks provided.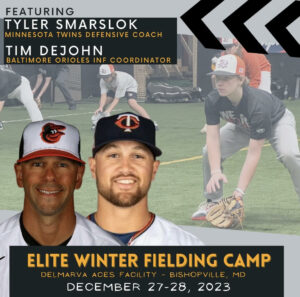 ELITE WINTER FIELDING CAMP
REGISTER HERE
Date: Wednesday-Thursday , Dec. 27-28
Time: Group 1: (9AM - 11:30AM), Group 2: (12PM - 2:30PM)
Location: Aces Bishopville Facility
Cost: $195 (Aces), $225 (Non-Aces)
This camp is run by current Minnesota Twins MiLB Fielding Coach, Tyler Smarslok, and current Baltimore Orioles MiLB Fielding Coordinator, Tim DeJohn. The camp, which is in its third year, is the top fielding camp on the Delmarva Peninsula year after year. Campers will go 2.5 hours each day and five hours total the entire weekend.
The camp is focused on making those in attendance better infielders through the use of drills and demonstrations. Campers will learn different techniques on throwing, fielding and going after the ball. It is excellent from top to bottom and all those in attendance will greatly benefit from it.